It looks like Halloween is going to be a little different for most of us this year.
But whether you're a family looking for something to set the Halloween mood in place of trick or treating, or just someone who wants to get in the spirit without scaring yourself silly, Disney+ just might have you covered.
While your impression of Disney might be cheerful and saccharine, the streaming platform actually has plenty that will help set the mood for spooky season, from animated classics to some of the most iconic Halloween films of all time.
Here are 14 of our top picks…
1. The Simpsons Treehouse Of Horror (1990 – present)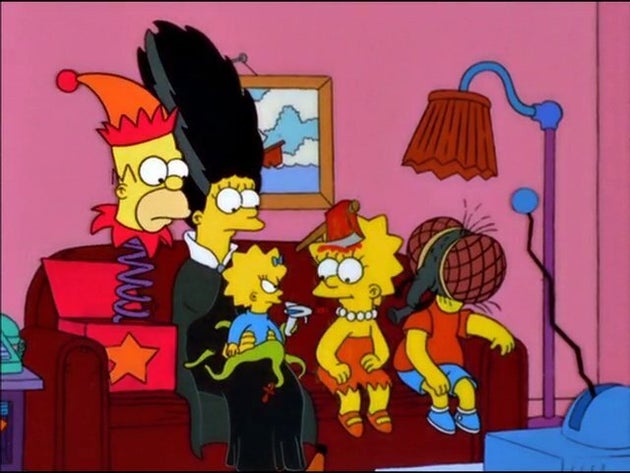 When it was finally confirmed that all 31 series of The Simpons were coming to Disney+, we have to admit a big part of us was excited for a Treehouse Of Horror binge-fest when October finally rolled around.
That moment is finally upon us, and we can't wait to revisit classics like Monkey's Paw, "The Shinning" and *shudders* The Raven (the only Simpsons Halloween short that's actually genuinely chilling).
Those who usually swerve the later seasons might still want to check out the Treehouse Of Horror episodes, featuring parodies of modern films and shows like Stranger Things, The Shape Of Water, Jurassic World and The Hunger Games.
2. The Nightmare Before Christmas (1993)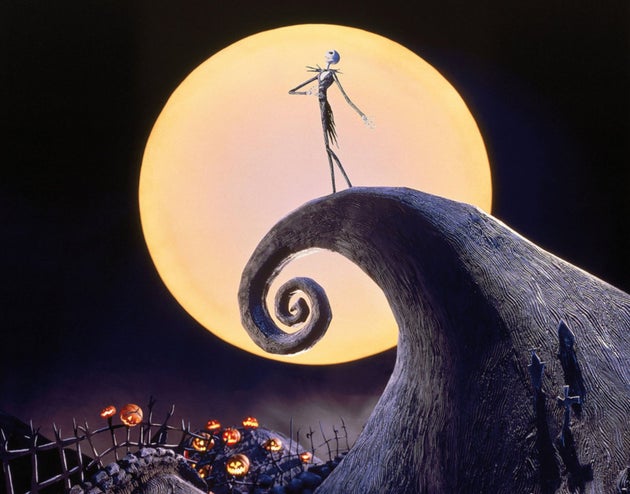 It's around this time of year that the debate usually starts over whether Tim Burton's stop-motion classic constitutes a Halloween or a Christmas film.
On this occasion we're choosing to remain impartial, but for those who fall into the former camp, The Nightmare Before Christmas is now streaming on Disney+.
For those in the latter… hang on a couple of months, and it'll still be there.
3. Hocus Pocus (1993)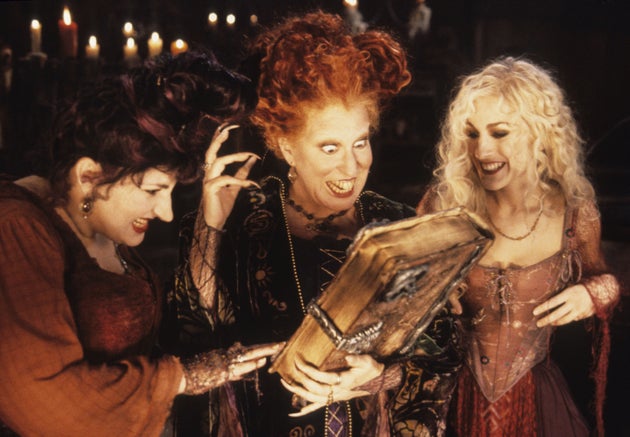 It really would not be Halloween without a bit of Bette Midler and the girls, would it?
Hocus Pocus really is an embarrassment of camp riches, from Bette Midler's rendition of I Put A Spell On You to the moment the coven flies off on vacuum cleaners, but there are a few genuinely spooky scenes too – not least Sarah Jessica Parker's unsettling musical number as she lures the children of Salem away.
4. Edward Scissorhands (1990)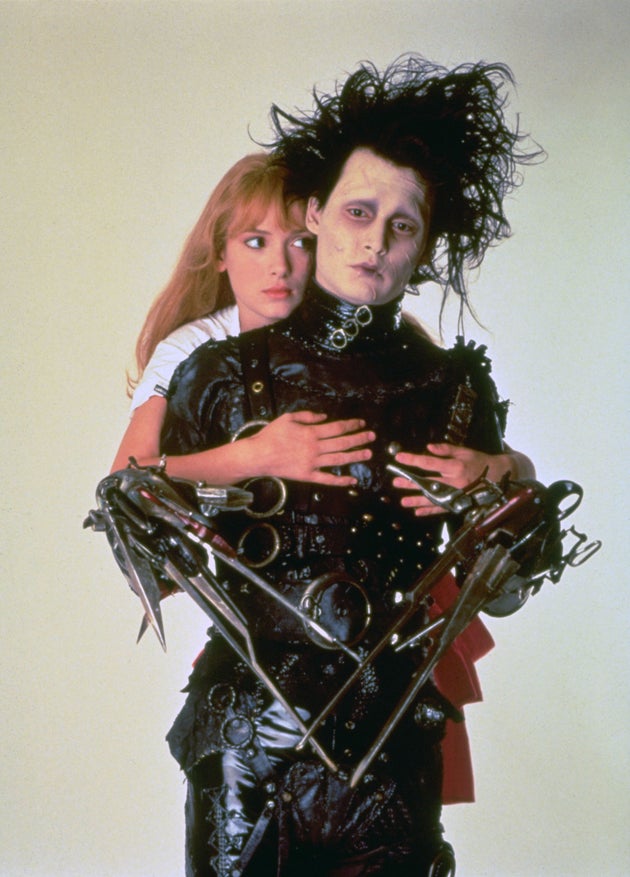 Disney+ is actually a bit of a treasure trove when it comes to film director Tim Burton, arguably the king of all things kooky. His live-action takes on Alice In Wonderland and Dumbo are all streaming on the platform, as are the aforementioned Nightmare Before Christmas and Frankenweenie.
Nestled in among them all is one of his all-time greats, Edward Scissorhands. The quirky love story is perfect for Halloween – and look out for a small appearance from none other than Vincent Price as the inventor, his final film credit before his death.
5. Onward (2020)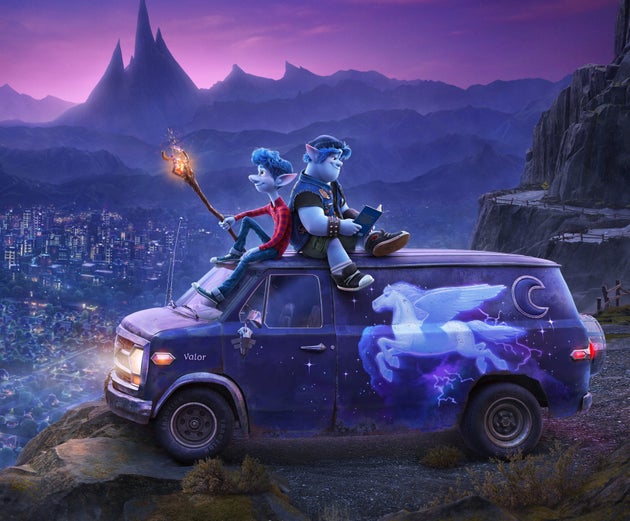 Disney and Pixar's latest collaboration was actually in cinemas when the UK went into lockdown earlier in the year, which means many families probably missed out on the opportunity to see it.
Fortunately, we've now been given a second chance to check it out, and its arrival on Disney+ at the beginning of October is perfect timing for a story inhabited by mythical creatures like elves, goblins and pixies. 
6. Descendants (2015)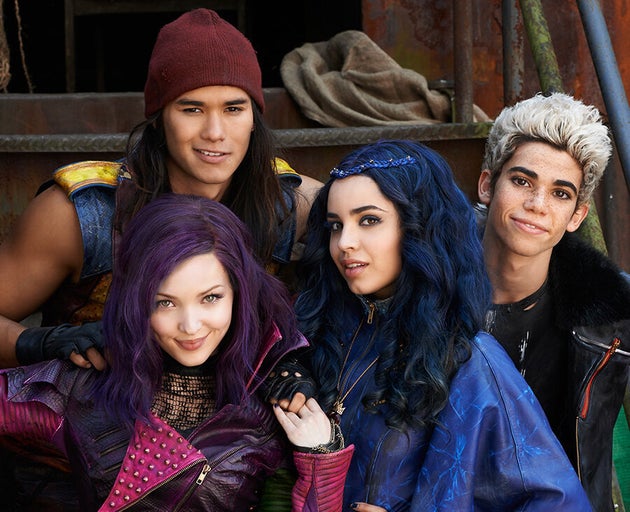 Essentially a Riverdale for Disney fans, this teen musical drama centres around the sons and daughters of villains like Cruella De Vil, Maleficent and the Evil Queen from Snow White, who are all competing to try and be rescued from exile, after the banishment of their parents.
The film has won a cult following since its release in 2015, and spawned two sequels, which are also available to stream if you enjoy the original. 
7. Maleficent: Mistress Of Evil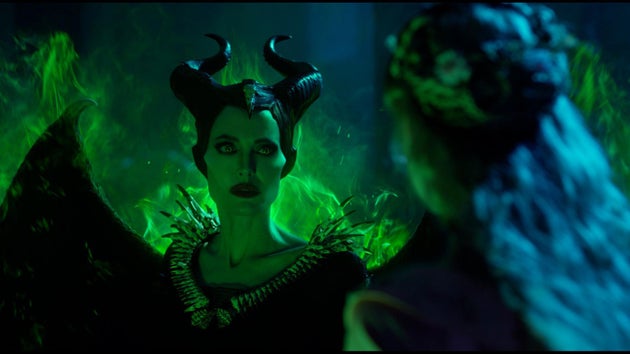 Angelina Jolie takes this lead in this new sequel, based on the infamous villain from Sleeping Beauty, repeatedly held up as one of Disney's most iconic film characters.
While the original Maleficent film (also available on Disney+, obv) serves as a retelling of Sleeping Beauty from her perspective, this 2019 sequel picks up five years later, and sees the notorious outsider finally finding her own tribe.
Of course, for the traditionalists, there's always the animated original (which, let's be honest, is probably still the best).
8. 101 Dalmatians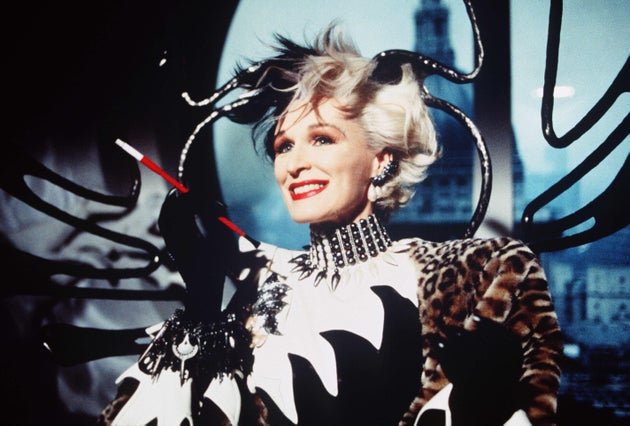 While the animated canine comedy 101 Dalmatians might not scream "Halloween", the unhinged, grotesque and absolutely fabulous villain Cruella De Vil is perfect for this time of year.
And for those who need some Cruella in their lives, you can pretty much take your pick.
Obviously, the original cartoon is a classic, but the two live-action remakes not only maximise Cruella's role, but have her played expertly by none other than Glenn Close.
9. Bedknobs And Broomsticks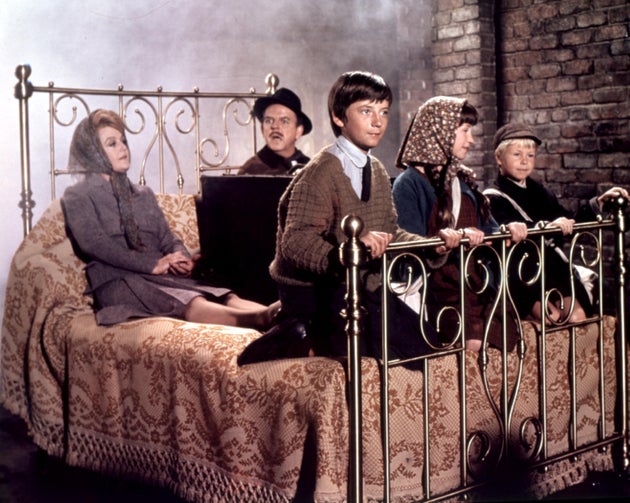 Bedknobs And Broomsticks is, if nothing else, an important lesson in not judging by appearances.
Angela Lansbury might come across like an unassuming, grandmotherly figure in the early scenes of Bedknobs And Broomsticks, but this film sees her truly playing by her own rules, rejecting what's expected of her and *checks notes* fighting Nazi soldiers while flying on a broomsticks.
Truly not to be missed.
10. Coco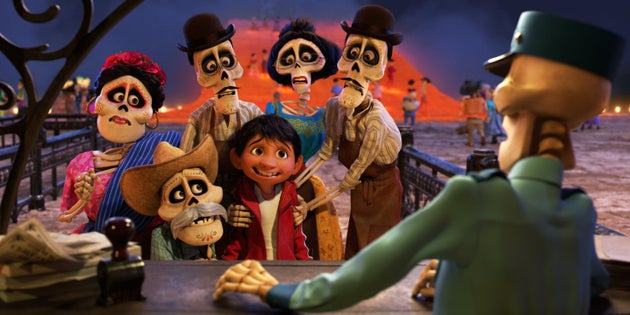 One of the more recent additions to the Pixar catalogue is also, in our opinion, one of the best. 
Coco centres around the Mexican celebration the Day of the Dead, and features a gloriously-designed underworld, fantastic musical numbers and plenty of laughs aimed at all ages.
It is a Pixar film, though, so there's also at least one scene guaranteed to make you ugly cry.
11. Return To Oz (1985)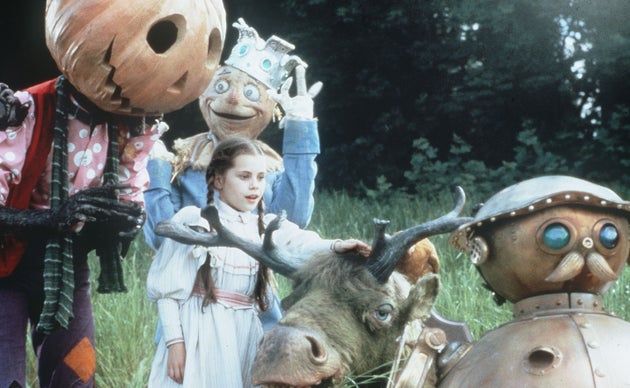 A sequel to the saccharine Wizard Of Oz might not seem like the most obvious choice for a Halloween film, but allow us to set the scene.
Set a short while after the original film, Dorothy is still living in Kansas with Auntie Em and Uncle Henry, who are getting a little tired of hearing her stories about the mysterious land of of Oz.
And so it comes to be that Dorothy comes under the care of a wicked nurse who subjects her to electroshock therapy (!!!!) to try and cure her of her delusions. 
What follows is a second trip to Oz, where things are a lot less wonderful than when she left them. It's hard to pinpoint exactly which scene is the most distressing, whether it's Dorothy's early adventures at the mental institution, the introduction of the genuinely-really-creeper wheelers or Mombi's collection of heads.
Frankly, the fact this film was actually aimed at children is still shocking to us.
12. The Black Cauldron (1985)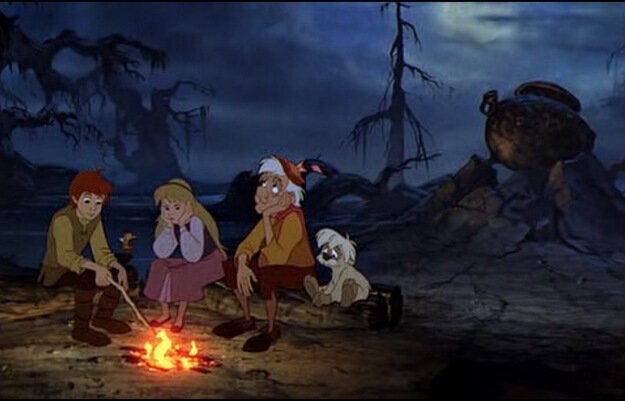 Continuing in our series of distressing children's films from the 80s, The Black Cauldron is one of those oft-overlooked animated features from Disney's wilderness years, commonly referred to as one of the company's biggest ever flops.
The Black Cauldron was a long time in the making, and Disney executives were really not happy with it, with Jeff Katzenberg infamously cutting out big chunks of the film that he didn't make sense, and as a result, there are certain parts that don't make sense, and occasional glitches in the animation.
Still, in the years since its release, The Black Cauldron has garnered a cult following, winning praise from many who admire the way it doesn't follow the pattern of Disney films that came before it.
Heed our warning, though, The Black Cauldron also has a reputation for being the scariest and least child-friendly of Disney's animated films, which is worth keeping in mind before you sit down to watch it with any especially young children.
13. Trick Or Treat (1952)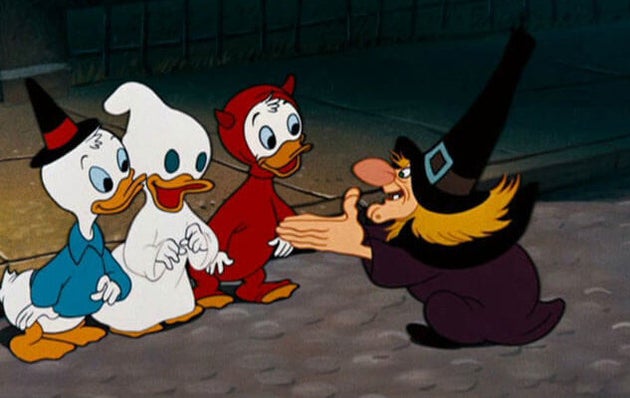 Talk about old school Disney, this cute little 10-minute short sees Donald Duck playing Halloween pranks on his nephews, Huey, Dewey and Louie, only for a real-life witch to swoop in and give him a taste of his own medicine.
Probably not one for anyone who finds Donald's divisive quacks on the grating side, but pretty much guaranteed to get a few laughs out of younger viewers. 
14. The Adventures Of Ichabod And Mr Toad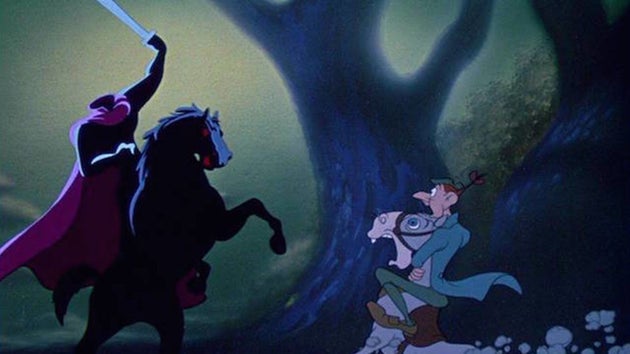 And then… there's this.
Potentially the weirdest thing in the entire Disney oeuvre, The Adventures Of Ichabod And Mr Toad is a two-parter, the first half of which is Disney's interpretation of The Wind And The Willows.
It's the second part that we want to focus on at Halloween, though. If the name Ichabod Crane doesn't ring a bell, then maybe the fact this story takes place in the town of Sleepy Hollow might spell things out for you.
Yes, this 35-minute tale is Disney's retelling of the headless horseman, complete with narration by Bing Crosby. There's also a thigh-slapping musical number about having your head lopped off and a final scene that still gives us chills when we think about it. Happy Halloween, indeed…
Sign up for Disney+ here. HuffPost may receive a share from purchases made via links on this page.