The tables were turned on Amanda Holden on Saturday night's Britain's Got Talent, as she took to the stage for a performance of her own. 
The BGT judge wowed viewers as she sang a rendition of Not While I'm Around, marking her first solo performance on the show in her 13 years on the panel. 
Amanda released her debut album, Songs From The Heart, earlier this week, and stepped out from behind the judges' desk to showcase a track from it. 
And for many people who had never heard Amanda sing before, she certainly impressed… 
What's more, Mandy even got the thumbs up from the usually-hard-to-impress Piers Morgan, who previously sat alongside her on the BGT panel from 2007 to 2011. 
He tweeted a picture of her performance, simply writing, "Fabulous" along with some applause emojis. 
However, some had questioned whether Amanda had mimed during the performance, prompting a BGT spokesperson to issue a statement. 
"Amanda was not miming on tonight's fantastic and enchanting BGT performance," they said. 
After the performance, Amanda called it "one of the most nerve wracking things" she'd ever done.
She tweeted on Saturday night: "The song was my for my girls. Singing live in front of the judges & team behind scenes who I've worked with for 15 was the most nerve wracking thing I've ever done!"
Amanda previously performed on the show as part of the cast of the West End musical Shrek, in which she played Princess Fiona in back in 2011. 
Last week, Amanda issued a typically Amanda response after her choice of outfit on BGT sparked over 200 complaints to Ofcom.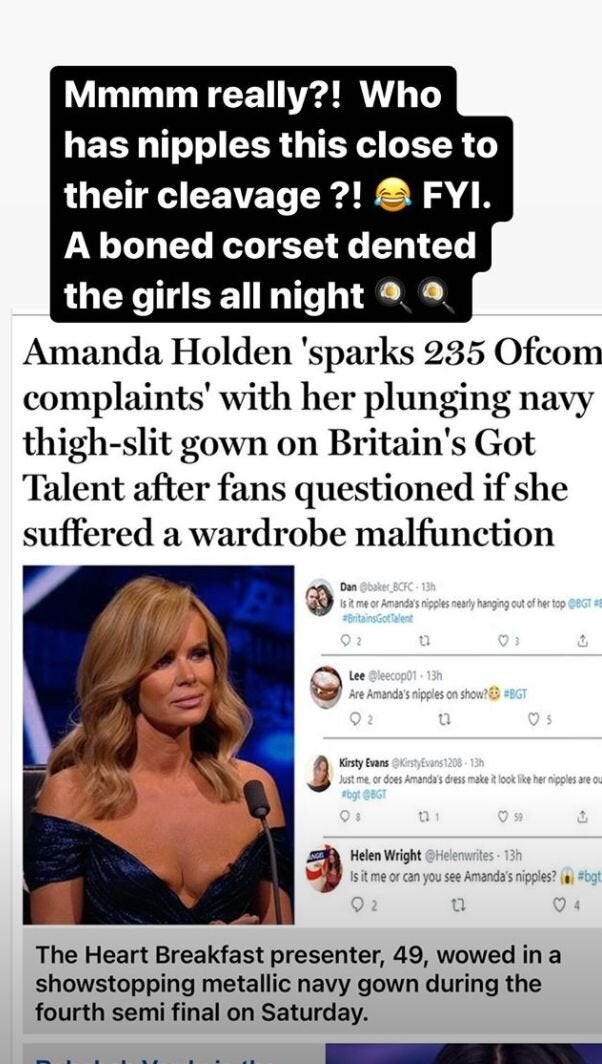 Some viewers had doubted whether she'd had a wardrobe malfunction while wearing the dress, to which she responded on Instagram: "Mmmm really?! Who has nipples this close to their cleavage?!"
"FYI. A boned corset dented the girls all night," she added, along with two fried egg emojis.
Britain's Got Talent concludes next Saturday at 8pm on ITV.