The toppling of slaver Edward Colston's statue was "not anti-white", Bristol's mayor has said in a documentary.
Statue Wars: One Summer In Bristol documents the weeks that followed its removal and shows how Marvin Rees managed the aftermath.
Historian David Olusuga helped to produce the film and said it was important to make it with local people who understood the city's "divisions".
The documentary airs at 21:00 BST on 10 June on BBC Two.
The statue of the 17th Century slave trader was toppled during a Black Lives Matter protest in Bristol on 7 June last year.
'Overtly racist'
He was an enslaved African man who lived in Bristol in the 18th Century, whose grave was targeted in the wake of Colston's statue being pulled down.
Mr Rees said: "The pulling down of Colston's statue was not an anti-white, oppressive move.
"It was about toppling someone who exploited other people."
He labelled the attack on the grave as "overtly racist".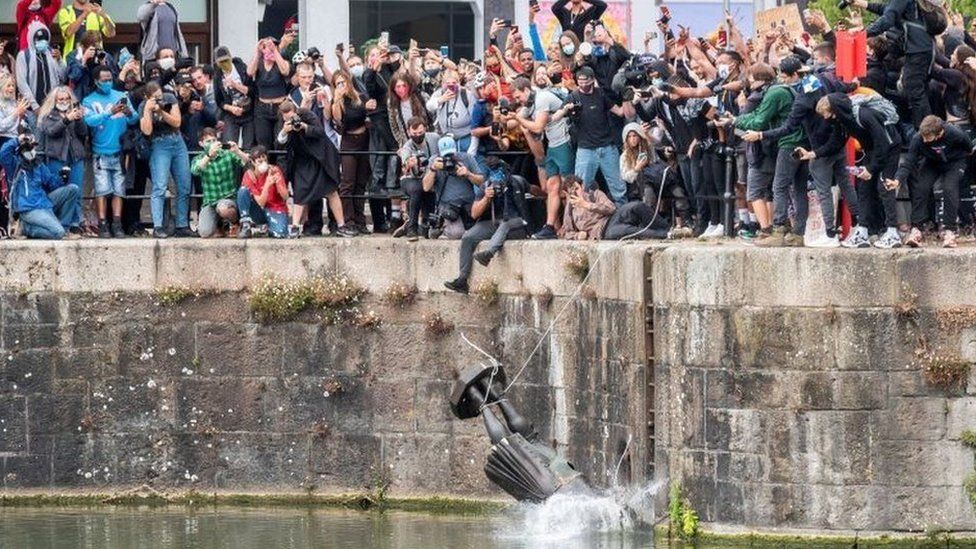 The documentary was directed by Francis Welch and produced by Mr Olosuga's television company, Uplands Television.
In it, Mr Rees, the first directly-elected mayor of Black African heritage in a major European city, shares his personal experiences of racism in the past.
Mr Olosuga said: "This is a film about Bristol, that was made in Bristol, by people who live in the city and understand its complexities, spirit and divisions."
Patrick Holland, BBC director of Factual, added: "This film is the inside story of a rolling series of events that gripped the nation's attention following the toppling of the Edward Colston statue last June.
"Seeing the inner workings of the mayor's office at Bristol's City Hall across last summer offers a unique insight into those events, into the city and Marvin Rees himself."