Arlene Foster wants the NI Executive to discuss the re-opening date for schools in Northern Ireland again.
Mrs Foster said she now hoped ministers could "revisit" that timetable.
"The Education Minister brought a paper forward last week, his preferred way forward was to have all children back at school on 8 March," she said.
"Unfortunately our health advisors didn't think that that was the right way forward.
"I understand that we have to take a safe and sustainable way forward, but I hope that we can now revisit that again because I know full well from my own experience, that the kitchen table is no substitute for a classroom."
She added: "I'm not a teacher, teachers are professionally trained and therefore it is vital that we get our young people back into schools as soon as possible."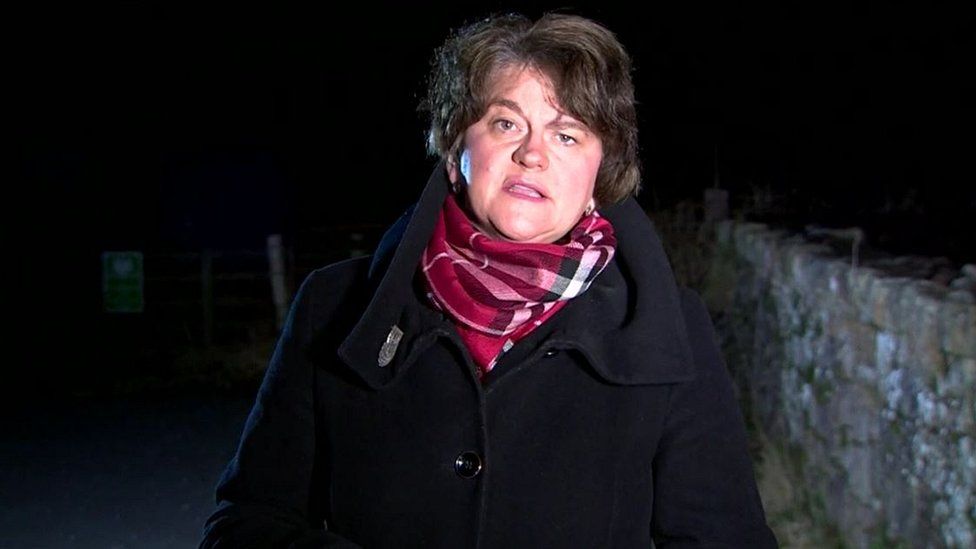 'Brighter days are coming'
The Stormont Executive is due to review the measures currently in place next Monday and discuss the next steps in their coronavirus response.
Under current plans in Northern Ireland, students doing qualifications like GCSEs, AS, A-levels (in years 12 to 14) and other vocational qualifications like BTEC will return to face-to-face teaching from 22 March.
But pupils in years four to seven in primary school and years eight to 11 in post-primary, will not be back in school until after the Easter break at the earliest.
Mrs Foster says Health Minister Robin Swann confirmed that the vaccination programme was making inroads and offered cause for hope.
"He confirmed to me that over 32% of our adult population have now been vaccinated, nearly 500,000 vaccines have been deployed here in Northern Ireland," she said.
"I very much hope that we can give optimism next Monday.
"The brighter days are coming, people do feel a sense of optimism not least because of our vaccination programme."