A woman whose husband died nearly a year after they were last able to hold hands says the ban on indoor care home visits is "a form of cruelty".
Lynn Parker's husband of 42 years, Alastair, died just before Christmas in a Caerphilly nursing home.
She said he "gave up" after being unable to hold the hand of his wife, who was "his lifeline".
The Welsh Government said they were looking at allowing more indoor visits now the vaccine was being rolled out.
Retired nurse Mrs Parker, from Risca, cared for her husband for 15 years, after he was diagnosed with progressive multiple sclerosis.
But as his illness got worse she found herself struggling to cope with him at home and, in May 2019, he moved into a care home.
"It was a new life for us, and we made the most of it," said Mrs Parker.
"I promised him I would never leave his side and I hadn't until Covid made me.
"I visited him virtually every day for five or six hours. Then on March 20th 2020 all visiting stopped.
"When I was allowed to see him again it was outside and two metres away, or through a glass door, and would stop if someone in the home was poorly.
"All these months when he needed me I could see he was fading from me. I was his lifeline.
"It was almost a form of cruelty."
Mrs Parker said her husband – a retired police sergeant – started to refuse food, drink and medicine. She would try to coax him to eat and drink via Skype, but "it wasn't the same".
"He thought he was abandoned, I promised him I was doing everything I could to get in and he was saying, just break the glass," she said.
"Alastair was cocooned in there and didn't realise the desperate situation outside, he would look at me as if 'here we go' when I tried to explain why I couldn't see him.
"I was staying at home to keep myself well, so when I could have gone in, I could go in with a clear conscience, but that time never came. I tried everything I could.
"I would have put on everything, any form of PPE, I would have worn it, to let me get in there."
She spoke to him on the morning of 19 December on the phone.
But, an hour later she had a call to say he had died.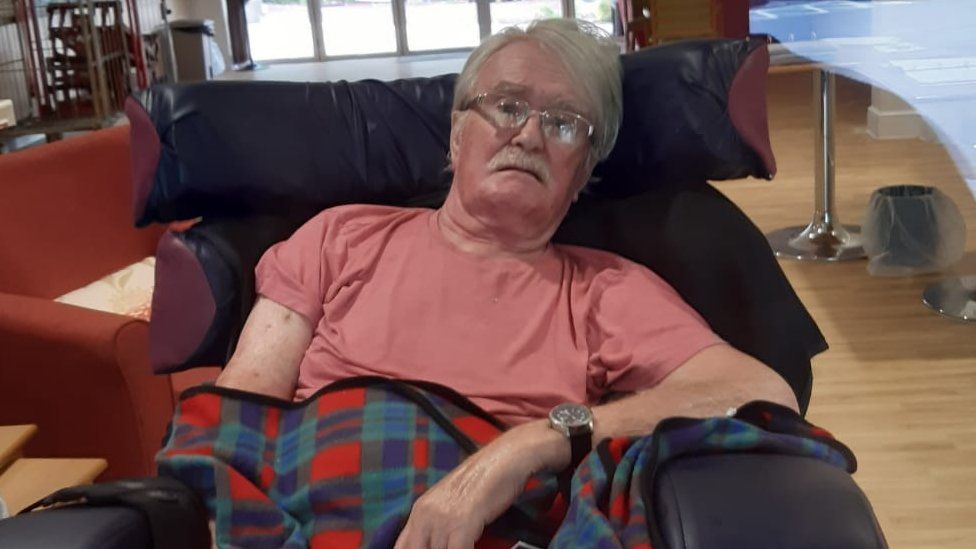 She said: "I really believe he died of a broken heart. His capacity was fading by the week, after 42 years of married life I needed to be there with him, he just missed all of that.
"I think Alastair's contributing factor of his death was he was heartbroken, I could tell I was losing him.
"To go months and months without holding his lovely hand until he was dead.
Mrs Parker said she wanted the Welsh Government to change the rules so other families did not experience what she had, with one nominated family member allowed to visit.
She said: "I honestly would want the government to consider one member of the family to be classed as a key worker.
"Wear whatever they have to wear, but at least it would give the resident and the family member some hope for the future."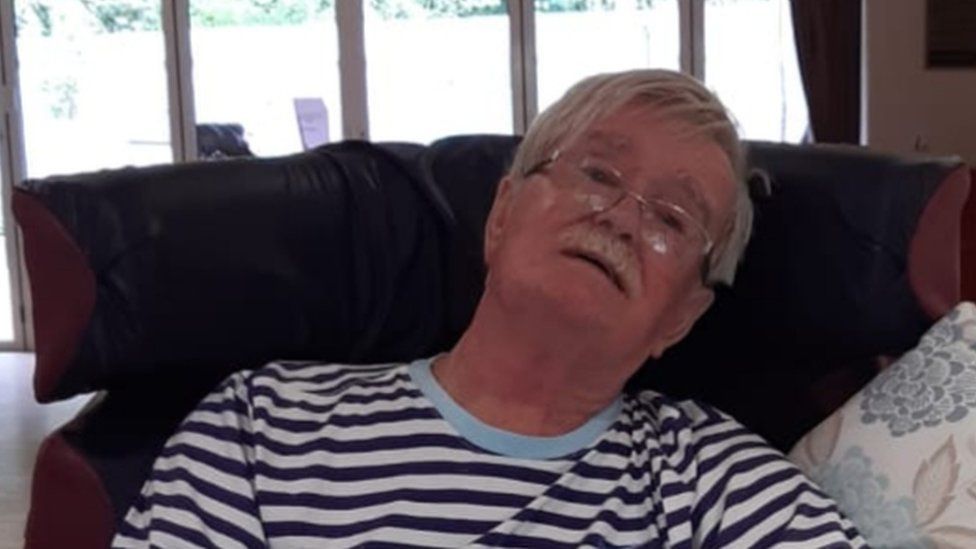 They will be able to meet indoors and hold hands – but visitors must wear PPE and be tested beforehand.
There has been no announcement about a change in the rules in Wales yet.
A Welsh Government spokesman said: "We recognise the importance of people in care homes being able to meet their family and loved ones and we are considering how to allow more indoor visits given the success of our vaccine rollout to care home residents and workers.
"In the meantime, while we are at alert level four, indoor visits should only take place in exceptional circumstances. These include – but are not limited to – end of life.
"This has been the case throughout the pandemic period. Care homes are asked to consider such requests sensitively and on an individual basis. At alert level four, outdoor visits and visits in a visitor pod can take place after a risk assessment has taken place."
Watch Wales Live on BBC One Wales at 22:35 GMT on Wednesday and on the BBC iPlayer