More than 862,000 people in Wales have been given a first dose of Covid vaccine, while more than 42,750 have now been given the full course.
The latest day saw 4,979 people get a second dose – overtaking first doses given daily for the first time.
The data shows 27.3% of Wales' population have had a first dose and 1.35% have received a full vaccination.
There are 63,113 people left in the top priority groups who still need a first dose, Public Health Wales figures show.
The number has increased because extremely clinically vulnerable people have been included in figures for the first time – so far, more than 84% of this group have been given a first dose.
A total of 862,248 people have been given their first dose of vaccine, including 2,165 in the latest day.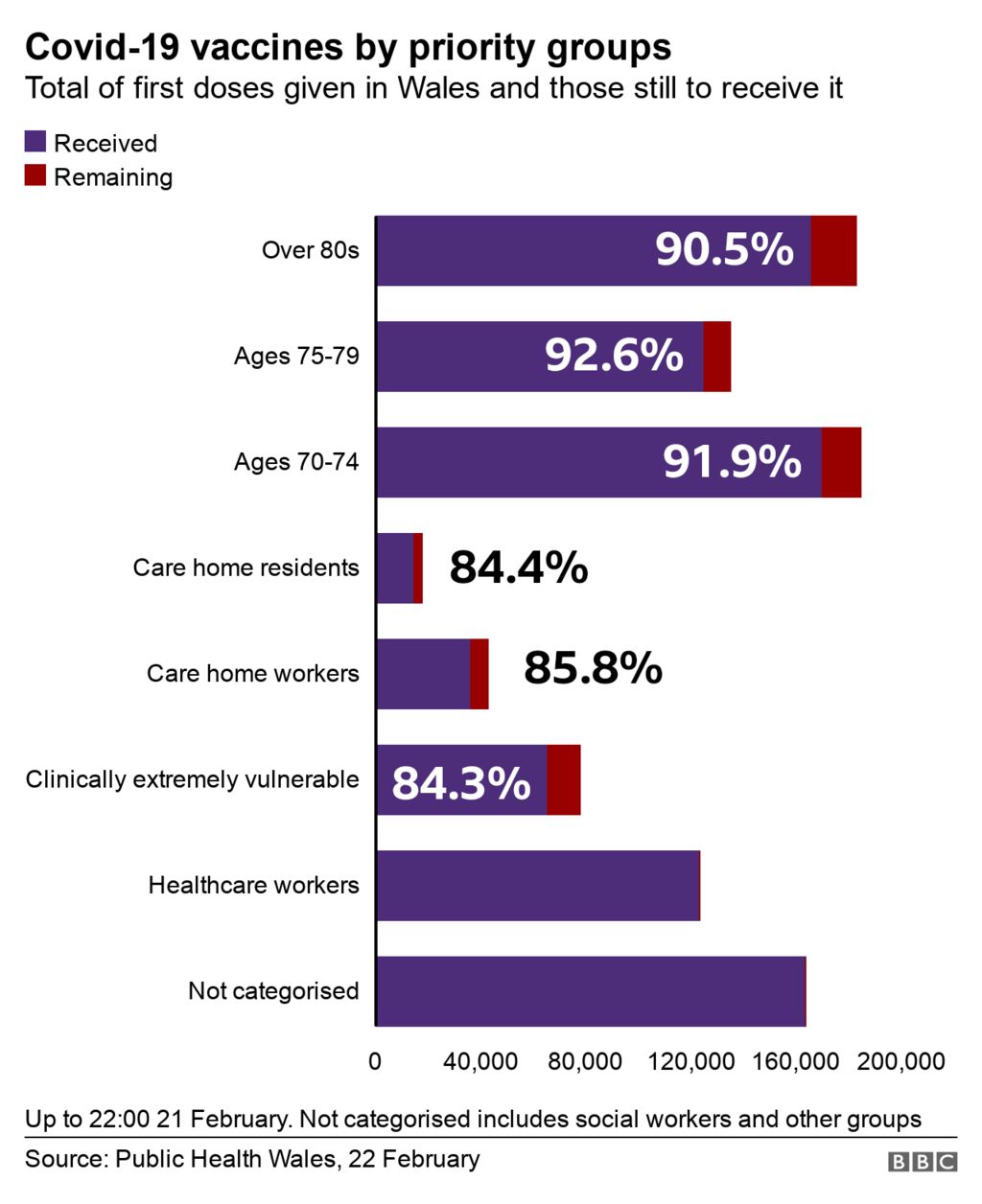 Who has received a dose in Wales so far?
Figures for Wales are released daily – and more of a local breakdown weekly – to show how things are progressing.
Daily numbers show 165,499 of over-80s (90.5%) have received a first dose
In addition, 92.6% of those aged 75 to 79 and nearly 92% of those aged 70 to 74 have had their first doses
More than 84% of care home residents have had their first dose
Sometimes there is a complication with immunising residents if there is an outbreak at a home, leading to a wait of 20 days until it is clear of the virus.
65,552 clinically extremely vulnerable people (84.4%) have been given a first dose
85.8% of care home workers – 36,363 – have received at least one dose
The other key priority group is healthcare workers, with 122,955 of them given a dose
There are another 163,051 people who have received a dose who have not been categorised yet. These include social workers and other frontline or vulnerable groups.
How many have received a dose?
Up to Sunday night, 862,248 people had been given their first dose in Wales – 27.3% of the population.
Other UK figures are still to come in, but up to Saturday night England had reached 26.4% and Scotland 26.2% of their population while Northern Ireland's rate was 23.5%.
The daily case rate for first doses is tailing off in UK nations, as the programme comes to the end involving the first priority groups.
Health officials in Wales understand there will still be people who could not be reached or wanted to rearrange appointments, as well as those in care homes who were not able to receive it because they had to isolate due to an outbreak.
There is an effort to catch up with the remainder to ensure "no-one is left behind", but there is confidence that all who want the vaccine will receive a dose.
What is happening with second doses?
The total of second doses now stands at 42,752 – with 4,979 doses given out on Sunday.
It means 1.35% of the population have now had the full course of a vaccine.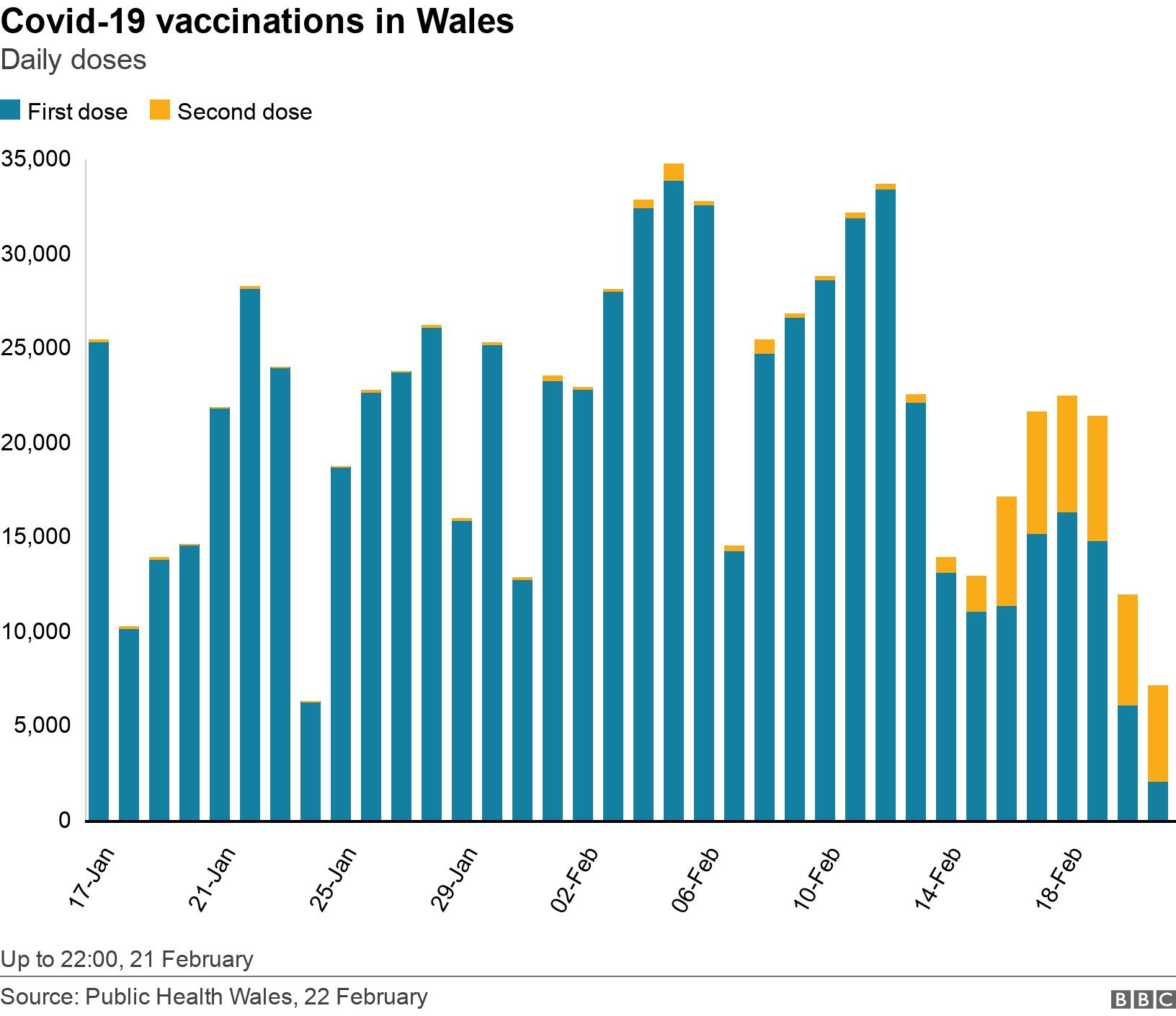 Last week saw a stock of 46,000 Pfizer doses being used in Wales and another 56,000 Oxford-AstraZeneca vaccines was available, as the programme of first doses continues.
Along with this week, there is a planned reduction in supply, as manufacturers prepare their processes for a significant ramp-up of production from March onwards.
That is noticeable with the figures we have been seeing but these also show more of an even spread between first and second doses, with these overtaking first dose numbers for the first time.
What about different parts of Wales?
We get a series of weekly figures from Public Health Wales, which break down figures by health board – with the latest going to 14 February.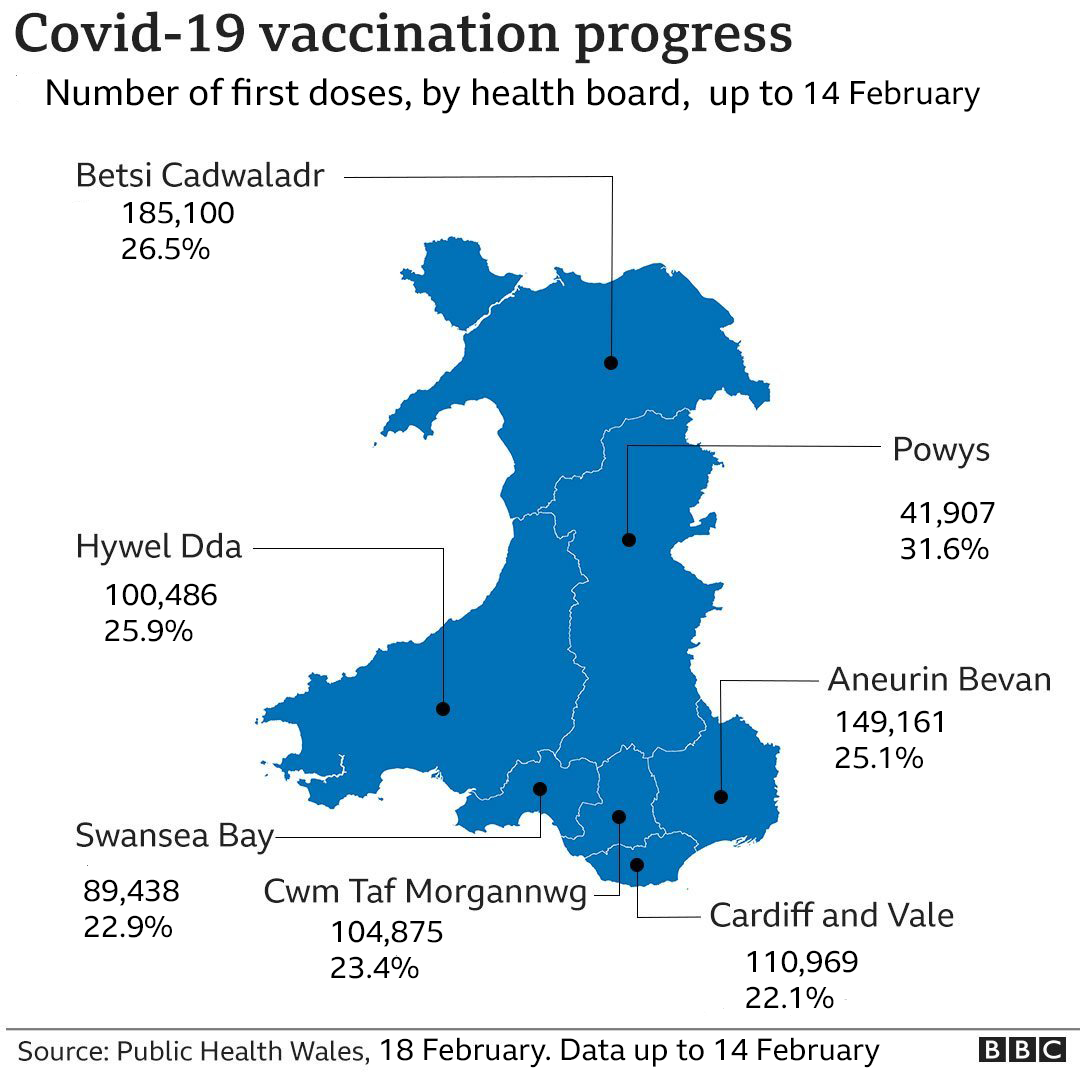 A total of 89.6% of over-80s – 163,860 had been given a first vaccine dose by Sunday 14 February
This is fairly consistent between health boards and varies from 87% in Cardiff and Vale to 92.1% in the Powys health board area
The vaccine reached 82% of elderly care home residents – although this ranged between 79.8% in Aneurin Bevan to 94.8% in Powys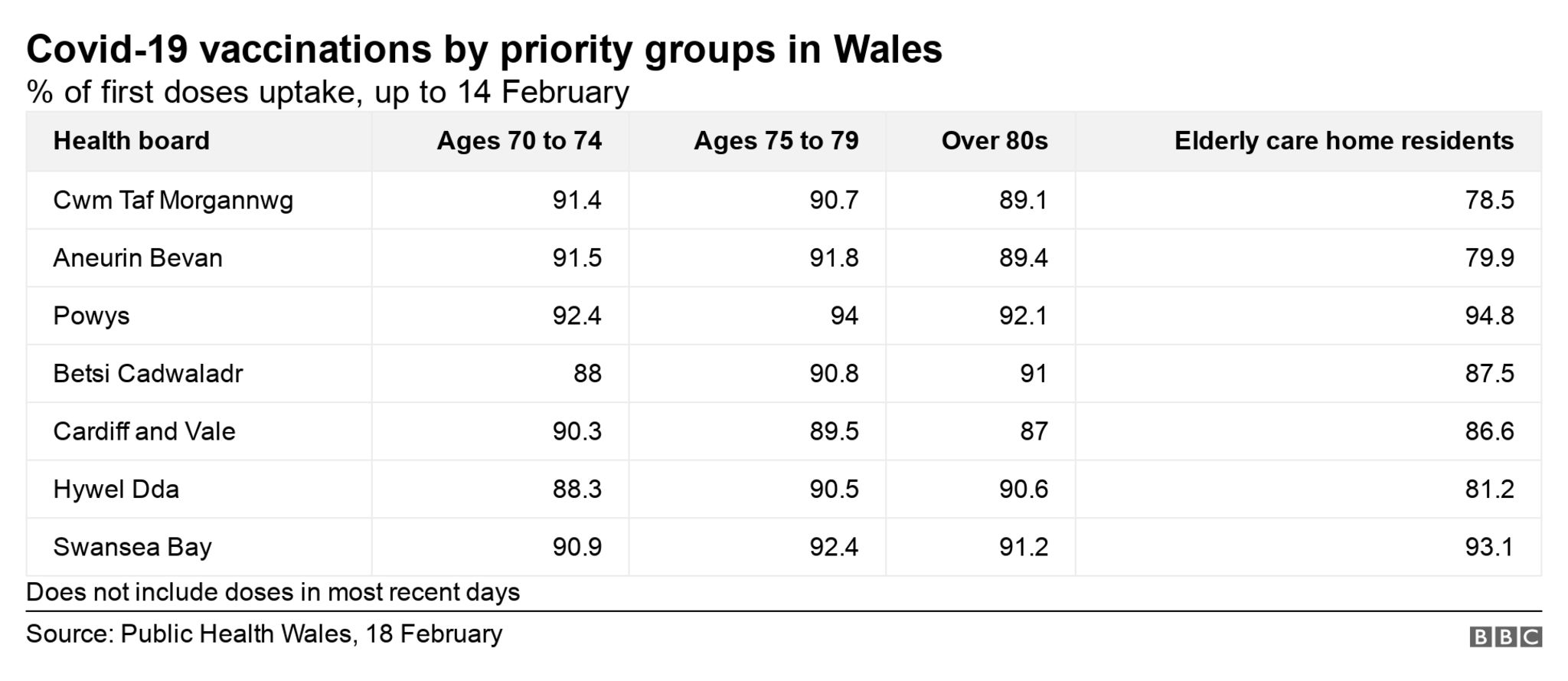 The figures show Aneurin Bevan had reached the highest proportion of first doses 70 to 74-year-olds – 91.5% – by last Sunday, and also 91.8% of 75 to 79-year-olds.
Of the second doses given out so far, Cwm Taf Morgannwg had completed vaccinations of more than 2,000 people, with another 1,126 in Hywel Dda health board. Most of these were to healthcare workers, but some were to people in their 80s and care home residents.
The Velindre cancer trust in Cardiff had also completed vaccinations on 328 of its workers.
There's a lag in the figures compared to what's going on
We have to bear in mind the vaccine figures that are published in Wales, unlike in England, are not "real time."
It takes up to five days after a person receives a dose for the data to be actually published.
GPs are asked to input data into the NHS Wales-built system as soon as possible but it then has to be verified and quality assured by Public Health Wales – to ensure people are not double-counted, for instance – before it is actually published.
So there is a built-in lag between what health bosses are seeing happening daily and when we see the figures.
One health official said they were under-reporting rather than leaving "any chance of over-reporting".
Ministers however, do have access to the "real-time" data as soon as it is in the system so have an idea what is going on, on the ground.