People with underlying health problems are to receive vaccine appointments, the Scottish government has announced.
Unpaid carers will also be offered the first dose as part of the next priority group in the vaccine programme.
There are over a million people in this category – the sixth and largest group on the priority list.
Health Secretary Jeane Freeman said health boards would send out appointments "as their supply levels allow".
She added it could take "several weeks" to get through the group.
Under current targets, everyone in this cohort should expect to get their first dose by early May.
Ms Freeman said: "The age range of people in this cohort can be as young as 16 and their underlying condition may not be obvious to the outside world.
"I would stress that the offer at this time is based on a clinical judgment so we would strongly encourage people of all ages to take up this offer should it come."
Currently the Pfizer-BioNTech and Oxford-AstraZeneca vaccines are being given in Scotland, with both requiring two doses.
People age 16-64 who have the following health conditions will be next to be invited for the first dose of the vaccine:
a blood cancer (such as leukaemia, lymphoma or myeloma)
diabetes
dementia
a heart problem
a chest complaint or breathing difficulties, including bronchitis, emphysema or severe asthma
a kidney disease
a liver disease
lowered immunity due to disease or treatment (such as HIV infection, steroid medication, chemotherapy or radiotherapy)
rheumatoid arthritis, lupus or psoriasis (who may require long term immunosuppressive treatments)
who have had an organ transplant
have had a stroke or a transient ischaemic attack (TIA)
a neurological or muscle wasting condition
a severe or profound learning disability
a problem with the spleen, such as sickle cell disease, or those who have had their spleen removed
have a BMI of above 40
are severely mentally ill
Unpaid carers who receive carers' benefits or who have been identified by GPs will be offered an appointment as well.
Carers who do not fall into these categories will be asked to register for their vaccine at a later date through an online portal or the national helpline.

On Sunday the prime minister announced he wanted the vaccine programme to "go further and faster", promising all adults in the UK will be offered their first dose by the end of July.
Scotland's national clinical director Jason Leitch said he was "delighted to hear that" but it "depends on supply".
He told the BBC: "We haven't committed dates that's just because of supply. We can do 400,000 a week, we've proved that.
"We're doing less this week and last week because supply is slower, it's just the nature of the manufacturing process. So if supply comes we can do 400,000 a week and we can meet that target."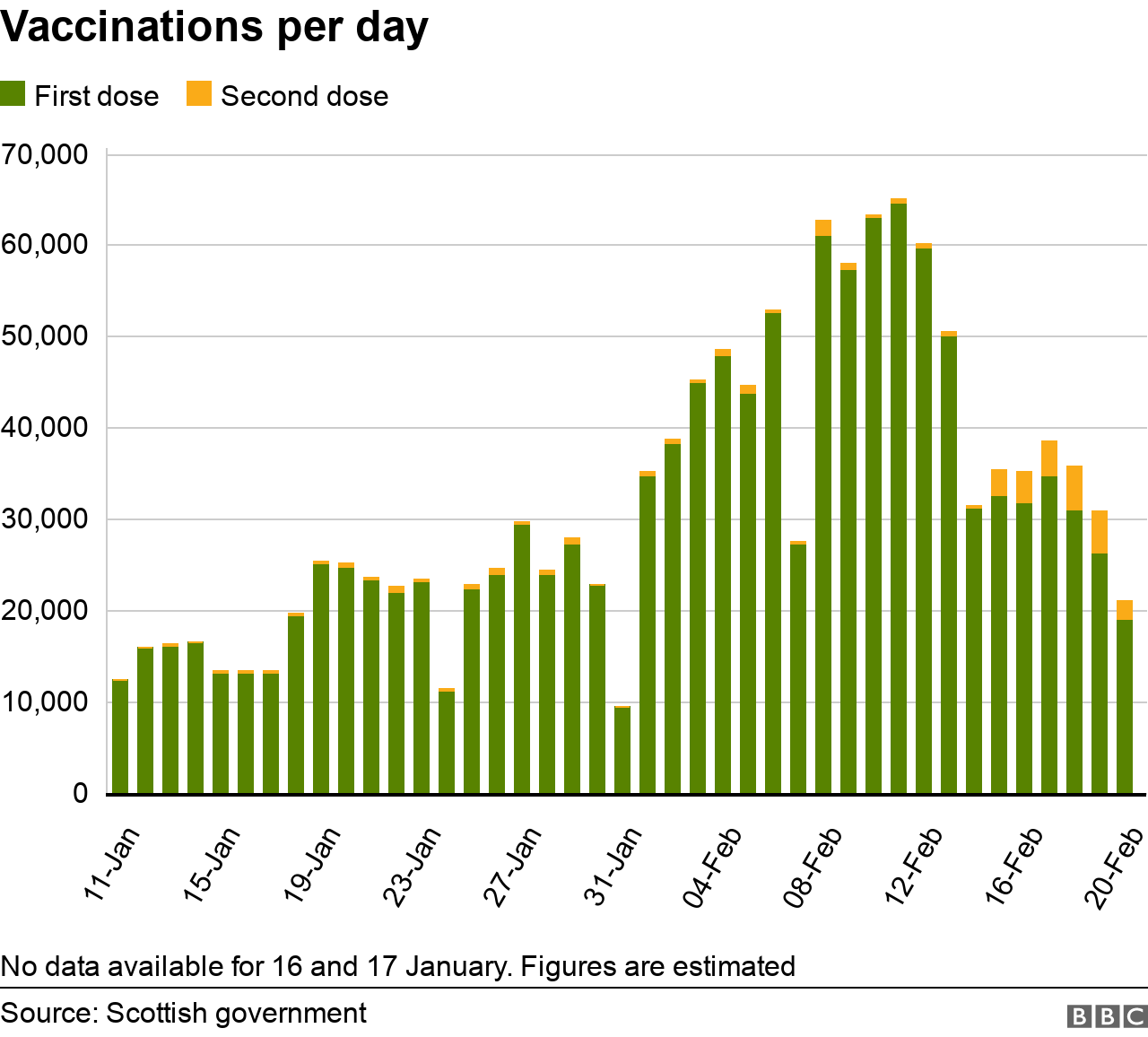 Ms Freeman said the Scottish government has "had to adjust" the number of appointments going forward due to higher uptake and lower vaccine supply than anticipated.
"We must also ensure we have enough vaccine for second doses when they are due as this provides longer lasting protection against the virus," she said.
"All of this will mean that some of our vaccination centres may be less busy in the next couple of weeks."
The Scottish Conservatives shadow health secretary Donald Cameron said that although supplies have slowed, the government should guarantee plans are in place to "immediately" accelerate the rollout once they increase again.
He said: "It is vitally important that the SNP ensures a major effort is made to contact everyone in this group and that nobody misses out.
"That will give confidence we have protected as many as possible of those with underlying health conditions and those caring for loved ones."