Parents should put swimming lessons "front and centre of their priorities" as the country comes out of lockdown, Olympian Duncan Goodhew has said.
It comes after the sport's governing body said the lack of lessons during the Covid pandemic meant 240,000 children had missed out on learning how to swim 25m – the length of most pools.
Swim England said more than five million swimming sessions were lost during the pandemic.
Pools first had to close in March 2020.
Mr Goodhew, who is president of charity Swimathon Foundation which has a Covid relief fund to support aquatics organisations, told BBC Radio 4's Today programme that it was "impossible" for children to learn to swim without being in the water and said the children who had been in the process of learning before March 2020 had regressed and need to be brought back up to speed.
"It is particularly important with the holidays, with young kids running round at pools or the seaside who can't swim it is a pretty frightening experience for the parent," he said. "So I think it is really important the parents put this front and centre of their priorities and get children signed up to learn to swim."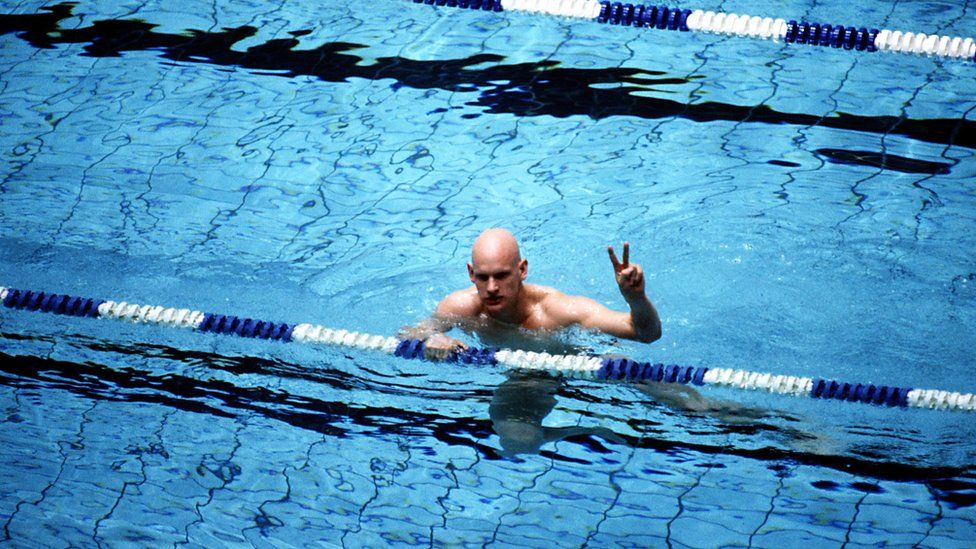 Mr Goodhew, who won gold at the 1980 Olympics in Moscow, said 90% of pools had reopened but even before the pandemic there had been three-year waiting lists for lessons at some pools.
He said water safety, "learning about to when it is safe to swim and how to look after yourself etc and a better respect for the water" was important for children.
"At the moment I think that people are probably just coming out of lockdown and they are not thinking about this particular path and the summer is upon us nearly and unless they are thinking about it pretty quickly they are going to be finding themselves around the seaside very nervous indeed," he said.
Swim England chief executive Jane Nickerson said people had "returned to the water in droves" since pools reopened but warned the organisation expected "some regression amongst children's swimming ability" with facilities having been closed.
She encouraged parents and guardians to be "proactive" in making up for lost time.