The news that Barack Obama had won the 2008 US election is something I've always heard millennials remember fondly.
There was something about its tantalising promise of change, and the beacon of hope that came with seeing the election of the first Black US president.
I was nine when Obama won, so I have no memory of his victory, but it's the kind of triumph my generation has longed for, after feeling so continuously let down by the political landscape of the 2010s.
Joe Biden's win could have been that moment for us, but I feel largely disengaged by his victory because so many parts of it are simply not cause for celebration.
The first political event I remember being genuinely engaged in was Brexit. I had just turned 17 and I stayed up all night to watch the results with the optimism that only a newly politically engaged teenager has. But I was left feeling numb in disbelief the next morning. I approached the US election that year with a similar hopefulness and was once again left devastated.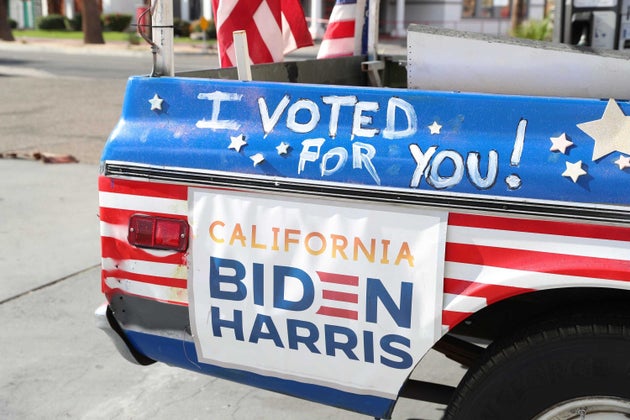 Last year's general election in the UK used up the last ounce of hope I had for politics. I had canvassed for Labour, despite knowing their chances of winning were slim, and was left with that familiar feeling of disappointment as the exit polls were released.
Since Brexit, I have kept up to date with the minutiae of each and every significant political event in the US and the UK. This year though, I was out of optimism and I saw no reason to believe that Donald Trump would not be re-elected.
I supported Bernie Sanders' campaign to become the democratic nominee, nevertheless, as I believed in the progressive policies that he had championed throughout his entire career. For me, he stood in stark opposition to Joe Biden, who epitomises the infamous "pale, male and stale" political caricature.
I saw my perception of Biden cemented when his now Vice-President, Kamala Harris, called him out in the Democratic primary debate in June over his civil rights record, after Biden had fondly recalled the politics of the 1970s, including his work with segregationists.
This kind of political nostalgia makes me uncomfortable. I want to support politicians with fresh, new ideas and who are looking to the future. Politicians like Alexandra Ocasio-Cortez, who is Biden's opposite in many ways – something she confirmed when she said earlier this year: "In any other country, Joe Biden and I would not be in the same party."
Looking back at Biden's voting record, he comes off as even less of a progressive candidate than he currently appears. As recently as last year, he said he still supported the Hyde Amendment (which forbids public money being used for abortions), but reversed course after it became clear he was the only Democrat in the field who did so. He also supported the Iraq War and was an advocate for a 1994 anti-crime bill that encouraged lengthy sentences and mass incarceration.
Biden's appointment of Harris as his running mate gave me slightly more cause for enthusiasm in their campaign, as the first Black woman to become Vice-President. But although Harris now presents herself as a progressive, her history as California attorney general saw her take hardline stances on criminal justice, which feels particularly uncomfortable in light of the events surrounding the Black Lives Matter movement this year.
I approached this year's US election with cynicism as my self-defence. But my jubilation at Trump's defeat has been tarnished by the realisation that the president-elect is not the left-wing president I have spent my teenage years hoping for.
This was reflected on social media too, as young people celebrated the result of the election, making clear that it was not in fact Biden's victory that they were celebrating, but Trump's loss.
I feel invigorated by the outcome of the US election but there is still a bitterness to the fact that my generation has once again had to settle for a centrist candidate that we do not truly believe in. I hope the lack of real gratification for left-wing young people will not discourage us from engaging with politics in a meaningful way, something that is perhaps more necessary than ever right now.
For young progressives, the good fight really is working out to be the long fight, but we must take solace in the huge sense of relief this election has brought in allowing us to feel hope again.
Alice Porter is a freelance journalist.