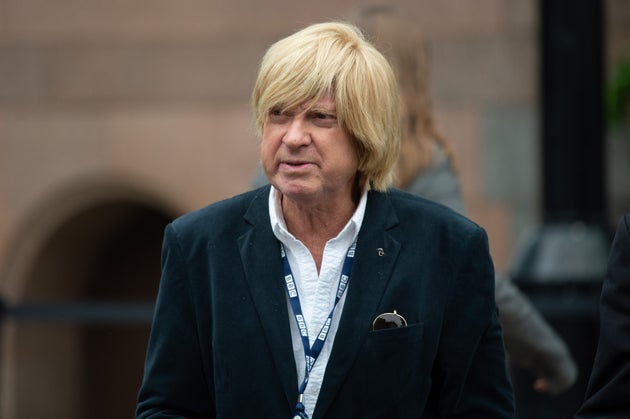 Tory MP Michael Fabricant appeared to suggest Muslims could not be English when he accused a spokesperson for the Muslim Council of Britain of damaging "Anglo-Muslim relations".
It came in a debate about Islamophobia in the Conservative Party, with Miqdaad Versi, the council's media spokesperson, insisting on Twitter there were "hundreds" of examples of anti-Muslim prejudice in the party.
But Fabricant – the MP for Lichfield – disregarded these claims, writing: "Mr Versi. I have read your unpleasant tweets about the #Conservative Party. The @Conservatives have NOT been investigated by the Equalities and Human Rights Commission."
In a now-deleted tweet, he went on to add: "Your spite and unpleasantness neither does the cause of tolerance in this country nor the cause of Anglo-Muslim relations any good at all."
Fabricant later admitted to HuffPost UK the tweet had been "sloppily worded" but stopped short of apologising.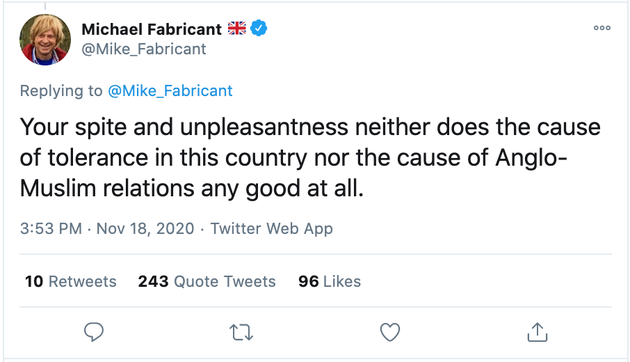 The bizarre wording led some – including Versi – to accuse Fabricant of implying that Muslims could not be English.
Fabricant later deleted the tweet, publishing a new version that replaced "Anglo-Muslim relations" with "relations between Muslims and non-Muslims".
However, he accused Versi of "deliberately milking and misreading" his original message.
"This character is deliberately milking and misreading the fact that I criticise his tweets for being divisive, damaging to Muslim-nonMuslim relations in this country all for his own ends, and not calling out #LabourAntisemitism," he wrote.
"Nationality & religion are NOT the same thing."
Asked on Twitter why he had deleted his original tweet, he wrote: "I deleted it because some people chose to misinterpret it.
"I replaced it with Muslims and non-Muslims which is clearer. Religion/no-religion and nationality are two different matters. I hope that answer is helpful."
In a statement, Fabricant told HuffPost UK: "My tweet was sloppily worded and the Twitteratii have seized on it.
"Religion and nationality are two very different issues. So I deleted the tweet and phrased it 'Muslims and non-Muslims' instead to clarify what I meant."