Could the Welsh Parliament election have been used to spread disinformation online?
An inquiry by a think tank, supported by political parties, plans to investigate social media use after the election has taken place.
Andy Regan, from the Institute of Welsh Affairs (IWA), said there was evidence even small nations' elections can be used to create discord.
The probe will also look at whether the campaigns have broken any rules.
Mr Regan, policy and external affairs manager at the IWA, said: "People are very aware misinformation was a factor in the Brexit referendum, we have clear evidence, as well as in the 2016 US election where actors were apparently spreading information.
"How do we know this isn't happening in Wales?


"What's become clear is it's absolutely a factor in small nations' elections, not just globally significant elections.
"We can't say this is happening, but it's reasonable to say we should look at whether or not it is, because we don't know."
Mr Regan said there was a difference between disinformation – knowingly and deliberately misleading – and misinformation, which can be done sincerely by people who believe what they are saying is correct.
"Both are a problem and it's a problem when they're used to influence how people vote," he said.
"I think this is something we were talking about before lockdown happened, the question of whether it is possible to hold a free and fair election given this social media activity. I think we probably would still have been saying this but it's going to be more prominent as a result of Covid.
"Social media can be a really positive tool, and a bigger part of everybody's life these days. What Covid has perhaps done in the context is give us quite an obvious thing to talk about, in terms of where that misinformation can fit."
Mr Regan said it was considered fair to critique the way governments had handled the pandemic and lockdowns on social media, but where it crossed the line would be misinformation, for example, about vaccines.
"Nobody was happy about lockdown, there are opinions about how it should be approached by governments and it's fair to criticise, what's not correct or accurate is claims that lockdowns don't work or vaccinations don't work, claims that aren't true.," he said.
"Another issue would be the targeting of individual candidates with factually inaccurate smears, pile-ons orchestrated as an attempt to create negative messages around a particular person which is a particular problem for women and BAME candidates and can be a disincentive to even stand in the first place."

WALES ELECTION: THE BASICS
What's happening? On 6 May, people will vote to elect 60 Members of the Senedd (MSs). The party that can command the support of a majority of MSs will form the Welsh government. Find out more here.
What powers does the Senedd have? MSs pass laws on aspects of life in Wales such as health, education and transport – and have some tax powers.

There are existing rules and regulations over the activities of political parties in an election, but Mr Regan said there was a grey area when it came to external influences using an election to simply create discord rather than trying to influence the outcome.
He called for existing rules to be updated to keep up with the developments in social media and its influence on elections.
"The issue of abuse and harassment falls into the scope of existing rules and regulations, but there are shades of grey when it comes to those trying to sow discord and disunity because it's a destabilising agenda rather than to influence an election," he added.
"It's harder to pin down where rules have been broken, when it falls outside the remit of party campaigns and goes much wider.
"We know this is a feature of the modern election but is it something we should just accept and allow to become normalised?"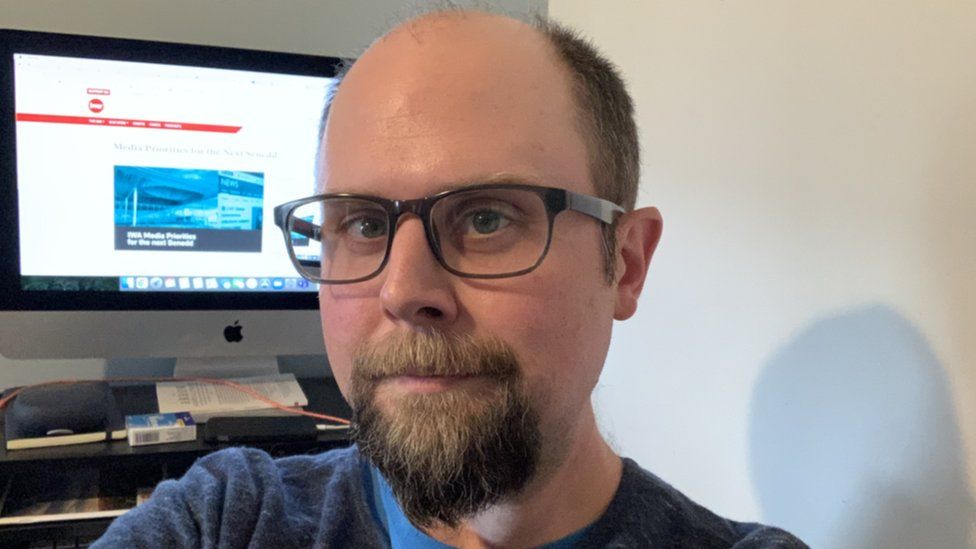 Mr Regan said "deep fake videos", technology which creates videos of figures such as Barack Obama saying something they have not said, could become a much bigger problem in future.
"They are very convincing, and if you don't take a stand now then next time the kind of activity could be much more worrying than a text or a picture that isn't true," he said.
"And the use of outside actors is troubling, whatever the agenda, it is something they can use to draw attention to other agendas, not just party politics.
"The fact is the parties have all come out so strongly for this inquiry, which is probably quite brave of them, and we really welcome the Senedd taking this approach."
'Not about overturning the result'
Mr Regan said while the inquiry would look at the activities of candidates and political parties, it was not seeking to overturn any result.
"The most high profile example of this would be the Brexit referendum, and the calls for this to be looked into which are associated with the Remain side – but would Brexit have won anyway?
"The thing is that there are rules already that people should be complying with and in some cases those rules are out of date, so it's not going to be about saying there would be a different result if that hadn't taken place."
Rather than punishing any party or candidate for alleged rule-breaking or "deeply questionable" use of social media, Mr Regan said the aim would be to raise awareness among the public about misinformation "and make people more sophisticated consumers of information they find online".

It is also looking at the global activity of spreading falsehoods online.
"It's hard to imagine a solution without requiring the involvement of sites with a properly resourced system for checking, removing and letting people know if something they have shared was not legitimate," Mr Regan said.
"On a Welsh level, we should have a proper commitment to our election having integrity, and it's about the Senedd taking control of the integrity of its own election and being clear if this is a problem."
It comes as part of a wider inquiry into the media in Wales, and what the next Welsh government can do to help strengthen it, and is supported by Welsh Labour, Plaid Cymru, the Welsh Conservatives, the Liberal Democrats and the Green Party.


The BBC is not responsible for the content of external sites.