Schools across England are expected to reopen from 8 March and the prime minister's "roadmap" will provide details of how this will happen.
Among the questions to be answered will be whether all pupils will start back on the first day or if there is going to be a more flexible, phased return.
There are also suggestions that Covid testing will be carried out each week by parents at home.
Face masks could also be used more widely in secondary schools.
This is likely to be a week of announcements on the return to school, including:
the broad outline of the prime minister's roadmap
catch-up funding and summer schools, including an extra £300m
Covid testing and safety in schools
how exams will work this summer
a confidence building campaign aimed at parents.
Starting date
Parents will want clarification over whether all pupils in all age groups in all schools are going back on 8 March – or whether this is the starting point for a more gradual return.
An alliance of teachers' and head teachers' unions said that sending back 10 million children and school staff at the same time was "reckless" and risked triggering a fresh wave of infections.
Head teachers have raised a specific concern about the logistics of Covid testing – saying that in a secondary school with more than a thousand pupils it's not realistic to carry out tests on all pupils if they arrive at the same time, so the start will have to be staggered.
So the first detail be whether all schools are fully open on 8 March, or whether from that date there will be a phased return, such as by different year groups.
Testing and masks
There have been suggestions that, after the first round of Covid testing in schools, further testing – perhaps twice a week – will be carried out by parents and carers at home.
This would have the backing of head teachers, who do not want schools to have the extra pressure of operating testing centres.
But it remains uncertain how parents would feel about carrying out the lateral flow tests and relying on such home testing to detect outbreaks, rather than checks by trained staff.
These are usually swab tests, taking a sample from the back of the throat and and from the nose.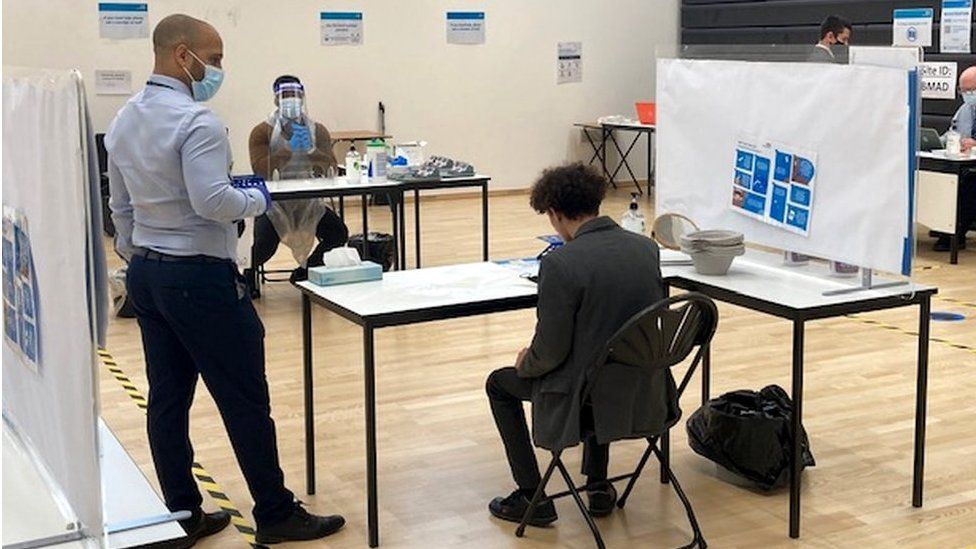 There will also be questions about children, who do not have someone able or willing to carry out the tests at home.
Covid testing has been running in schools this term for the children of key workers and vulnerable children who are still attending – with more than three million tests so far administered.
New safety guidance this week is also expected to address the wearing of face masks. There could be a requirement for them to be worn in secondary schools in places where social distancing is not possible.
Catch-up classes
Another £300m has been added to the £1bn catch-up funding announced last year, in recognition of the amount of time pupils will have missed in school.
There will be announcements on how this is likely to be spent, such as on summer clubs, tutoring, after-school lessons, activities and sports.
A school catch-up tsar, Sir Kevan Collins, has been appointed to lead on this recovery, with particular concerns about the biggest negative impact falling on the most disadvantaged.
Exams
Cancelled GCSEs and A-levels are going to be replaced by teachers' grades.
There will be "mini-exams" which are intended to "inform" the judgements made by teachers, rather than be used to decide results.
The mini-exams will be marked by teachers within schools and are likely to be options for schools to use to assess pupils, rather than being compulsory.
Results could be published earlier than usual, allowing more time for appeals ahead of university admissions.
Vocational exams are also expected to use teachers' grades, but with different arrangements for qualifications requiring practical skills.
Universities
While the focus has been on schools, an update is also expected on universities. These have remained open for students taking hands-on subjects, such as medicine, while other courses have switched online.
There have been suggestions other courses could return to face-to-face teaching from the end of April, which for some universities would be around the start of the summer term.
But there have been other claims that some students, such as those approaching final year exams, could go back sooner.
A number of universities have already announced they will stay online for most courses for the rest of the academic year.